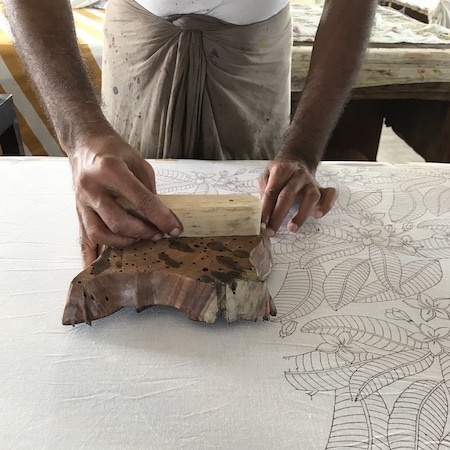 We love that block prints are perfectly imperfect. The hand printed nature offers slight variations that give a magical quality to a block printed item. It starts with a drawing that is traced on to a block of wood and then carefully hand carved. Once carved, the block is soaked in mustard oil for about a week before it is used for printing. The block is then dipped in dye and stamped onto fabric. The artist does not use any registration but rather makes a visual determination for the layout. The depth of color can vary based on how much pressure is applied to the block when printing. A one color design takes a full day to print 20 meters of fabric. The carving and printing techniques have been passed down through the generations, so the carvers and printers make this complicated process look effortless.

Our blocks are based on tropical motifs, reflecting our island lifestyle. Our latest print is plumeria, an iconic symbol of Hawaii. Recognized for its scent and beautiful traditional leis, it is considered a symbol of positivity in Hawaiian culture.

Our bedding, designed by owner, Amerjit Ghag, is printed on a fine Indian cotton.